Andrew Foster, 32, suffered injuries "consistent with... granite falling on you" when more than 1,000 tons of rock fell from the face of the El Capitan monolith in California on Wednesday.
His wife Lucy was injured and remains in hospital.
Mrs Foster is said to have told her husband's aunt she was only alive because Andrew jumped to save her.
Gillian Stephens told The Times: "She said: 'Andrew saved my life. He dived on top of me as soon as he could see what was going to happen. He saved my life.'"
The couple, from Cardiff, have a blog called Cam and Bear in which they describe themselves as "passionate weekend warriors" rather than "extreme athletes".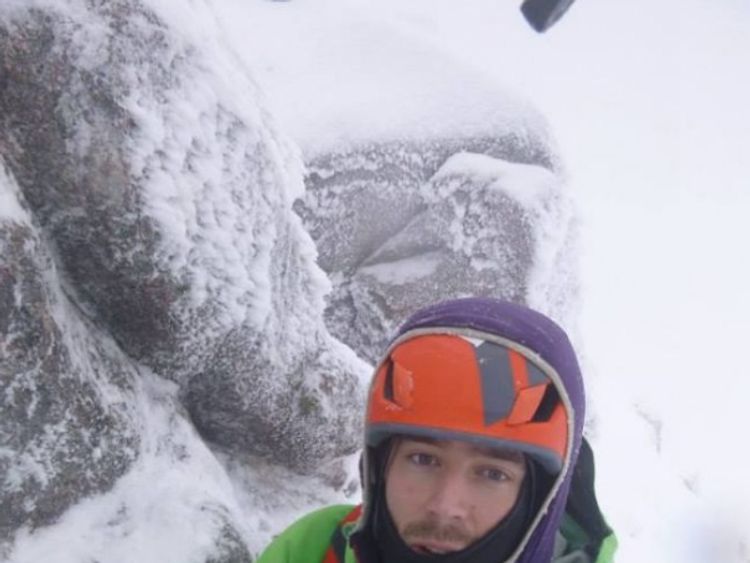 The couple, who were found with climbing equipment, are thought to have been scouting the ascent from a trail when a sheet of granite around 40 metres by 20 metres (131ft by 65ft) fell from a height of around 200 metres 650ft.
Scott Gediman, from the park, said: "From what I understand they were buried under rock... they were crushed by falling rocks."
They were the only known casualties, despite being part of a group of other climbers when the collapse took place.
Mr Foster grew up in Cheltenham, Gloucestershire, before attending Cardiff University. She worked for clothing company Patagonia.
He had proposed to his wife, who is originally from Shropshire, during a skiing holiday in the Alps in 2015 and they married last year.
On Thursday, a second rock fall at the site saw one person injured. They were airlifted to hospital.